2014 Audi R8 Introduction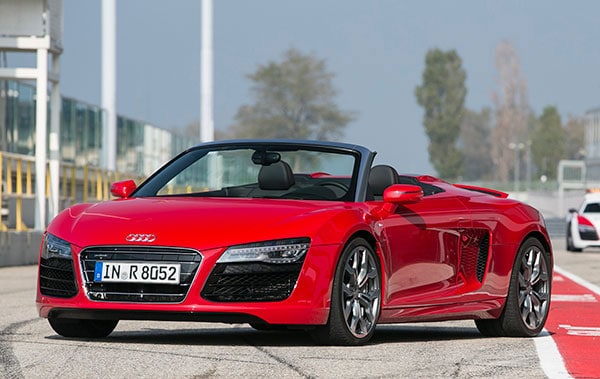 The Audi R8 is the sporty spearhead of the Audi lineup. Its beauty and handling prowess have been well documented, and subtle tweaks make the 2014 Audi R8 even better.
Audi named the R8 after its Le Mans-winning sports car, bringing the first road car R8 to the market in 2007. Originally only available with a 4.2-liter V8, in December 2008 Audi unveiled the 5.2-liter V10 model that was based on the Lamborghini Gallardo LP560-4 engine.
The V8 delivers 430 horsepower, the V10 525 hp. For 2014, a new model arrives on the block boasting 550 hp: the 2014 R8 V10 Plus.
Both the V8 and V10 are available as a Coupe or Spyder, with the V10 Plus only offered as a Coupe. The R8 V10 Plus is faster, lighter, with carbon ceramic brakes coming as standard.
All R8 models are brilliant machines to drive. They are track-munching animals, yet at the same time able to handle adverse weather conditions up snowy alpine passes in the Austrian Alps (believe me, I tried it). The mid-engine supercar contains enough frontal storage for a carry-on bag, backpack and a jacket, making it comparably efficient for cars of this nature.
The R8 cabin is as luxurious as you would expect from a high-end Audi, and yet it does not feel pretentious. The navigation leaves a bit to be desired, however. Overall, the 2014 R8 is a solid step forward from an already decorated machine.
The biggest updates for the 2014 Audi R8 come in the form of the 7-speed S-Tronic dual clutch transmission, which replaces the R-Tronic single clutch gearbox. The biggest fault with the 2012 R8 was the R-Tronic's snappy and abrupt shifting. The S-Tronic cures all the deficiencies of old. And with the addition of launch control, the R8 is a contender to dust off any Porsche 911, Mercedes-Benz SL AMG, Nissan GT-R and frankly any other sports/supercar you can dream up.