2016 Audi A3 Driving Impressions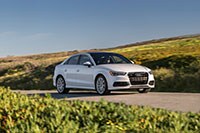 What we like most in driving the A3 is the electromechanical steering system, so nicely weighted and precise, especially on the freeway at those times when lane placement needs to be perfect; road feel is dull, though. The brakes are easy to modulate, allowing precise braking.
There's quite a bit of road roar in the cabin, as you feel the coarse thrum of the engine lugging around the city. The Buick Verano is smoother and quieter.
The engine is mounted transversely, and the suspension is basic, with struts in front that are isolated on their own subframe, and a four-link torsion-beam suspension in the rear.
The quattro all-wheel drive system isn't the same as in Audi sedans from the A4 on up. Instead, the A3 uses Haldex system that sends most or all of the power to the front wheels until traction is needed at the rear.
One key option is Drive Select, which offers driving modes that adjust the steering effort and throttle feel to your desires: Auto, Comfort, or Sport. Active safety systems are available for the A3, which apply the brakes automatically when an eminent crash is detected.
The Audi S3 has sportier handling. The S3 rides lower than the A3, the steering uses a different variable ratio and is weighted more heavily, shock damping is quicker, and it comes with high-performance 19-inch summer tires.