2016 Audi A3 Introduction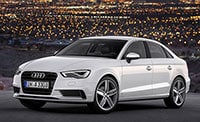 The Audi A3 comes as a sedan, cabriolet, and five-door Sportback hatchback. Its familiar styling is neat and sporty. A3 was redesigned for the 2015 model year, so there isn't much new for 2016: rearview camera, heated mirrors and washer nozzles, and aluminum-look interior trim are standard on 2016 Audi A3 models.
As a premium compact car, the A3 competes with the curvaceous new Mercedes-Benz CLA 250, the updated Acura ILX, entry-level BMW 3 Series sedans, and maybe the BMW 2 Series coupe and convertible. The A3 has an unadventurous look and feel compared to these cars. Another car worth considering is the decidedly adventurous Buick Verano, with its great cornering and turbo engine that throws the gauntlet at the Germans, and the new Buick Cascada convertible that boldly takes on the A3 Cabriolet.
Four powertrains are available for the A3, and all have solid virtues. Among them: a 1.8-liter turbocharged engine making 170 horsepower with front-wheel drive; a 2.0-liter TDI diesel making 150 horsepower with front-wheeldrive; and the e-tron plug-in hybrid with a 150 horsepower 1.4-liter turbo and 102-hp electric motor.
The A3 1.8T accelerates to 60 mph in 7.2 seconds and the A3 2.0T does it in 5.8 seconds. Both engines are mated to the VW/Audi six-speed DSG (automated dual-clutch) gearbox, programmed softer than previous DSG's, however the Sport mode brings back the edge with quicker upshifts and rev-matched downshifts. They reach their torque peaks (200 and 258 lb-ft, respectively) at just 1600 rpm, which makes them very easy to drive, with good power response even from the most relaxed situations.
The TDI diesel engine is VW made and boasts a strong 236 lb-ft of torque and sensational fuel mileage. It's front-wheel-drive only, and again uses the six-speed dual-clutch transmission.
The e-tron plug-in hybrid uses a turbocharged 1.4-liter making 150 horsepower and 184 pound-feet of torque. The dual-clutch transmission is used with a 102-hp electric motor added to assist the engine and enable electric driving. Its all-electric range is 31 miles, from a 8.8 kWh battery pack, charged through a port hidden in the grille.
Audi S3 features a turbocharged 2.0-liter engine rated at 292 horsepower and 280 pound-feet of torque, a six-speed DCT, and all-wheel drive. S3 can accelerate from zero to 60 mph in 4.8 seconds, according to Audi.
The A3 sedan doesn't get 5 stars in all the government crash tests, only 4 stars for frontal impact and rollover, but it earns Top Safety Pick in all the ratings from the Insurance Institute for Highway Safety (IIHS). The Sportback and Cabriolet haven't been tested.
Model lineup
The 2016 Audi A3 1.8T opens at $30,900 MSRP, the TDI at $33,200, the 2.0T quattro $34,200, and the Cabriolet $39,600 for the quattro 2.0T and $36,600 for the front-drive 1.8T and . They're sold as A3 Prestige, Premium Plus, and Premium. The 2016 Audi S3 quattro retails for $42,500.
Standard equipment includes leather, rearview camera, power driver's seat, dual-zone automatic climate control, panoramic sunroof, HD Radio, satellite radio, Bluetooth audio streaming, LED daytime running lamps, bi-xenon headlamps, and a rain/light sensor for the headlights and wipers. LED headlamps are optional. Audi Connect is a choice upgrade, with a monthly subscription. Sound can be blasted over a 14-speaker 705-watt Bang & Olufsen audio system.
Safety features include pre-collision restraint, simulated torque vectoring on the front wheels via using the brakes. Optional safety technology includes adaptive cruise control and blind spot monitors that maintains a traffic crawl. With the Advanced Technology package you get active lane assist.