2016 Audi A3 Walk Around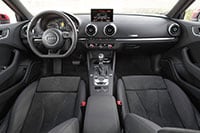 The A3 is visibly Audi all the way. There's a sharp crease at the beltline, and another rising from low on the doors. The grille is emphatic and spare, and the roofline rolls gently before sliding down the pillars at a distinctive angle, to a stubby trunk with soft contours around the rear fenders that can make the car look bulbous.
The soft-top Cabriolet looks more sporty than the sedan. The nicely finished tonneau cover with attractive aluminum-look trim matches the one on the fancier A5 convertible. The Sportback looks European, with an attractive wraparound lighting and its nicely canted hatch. It's lean and close to the ground, a pleasing squatness.
A3 sedans are 175.5 inches long, more than 6 inches longer than the Mercedes CLA, with a 103.4-inch wheelbase that's more than 1 inch longer. The A3 is also a bit wider, helping make the rear seat easier to access than the CLA's.
Interior
Inside, a swoopy inlay across the top of the dash shows its VW roots, but there's an overall jumble that makes it feel someone is trying too hard to dress up the cabin. We were half-blinded by the glare in the sunlight off the shimmering chrome rings around the climate vents. Breaking up the horizontal dash are round vents, the MMI on the console and its screen that rises from the dash when you turn the car on.
For this premium class, the A3 feels a little cramped and lacking in creature comforts and cabin refinement. The rear seat is tiny and trunk space limited. The front seats give adequate comfort but aren't the superb seats of grander Audis; the cushions are short. The driver's seat is power, front passenger's seat manual. The steering wheel is nice, leather-wrapped, but heating is not an option. The edge of the center console digs into the driver's knee. The back seat has decent legroom only when the front seat is slid forward. Headroom is tight for tall people.
The star of the cabin is the Multi-Media Interface (MMI). The system's excellent interface and connectivity is a good reason to consider the A3 over some rivals. A bright and thin seven-inch screen rises from the dash when you start the car. You make inputs using a mouse-like controller on the console, or voice command. On top of the controller there's a touch pad that lets you to write letters with your fingertip, to tell your car what you want.
Features of this version of MMI consists of read-aloud Twitter and Facebook alerts, thousands of tunable internet radio stations, and, with the optional navigation system, Google Street View and Google Earth. It's driven by a fast AT&T 4G LTE connection that provides WiFi access. It requires a subscription that isn't cheap for even moderate data usage.