2016 Audi A7 Introduction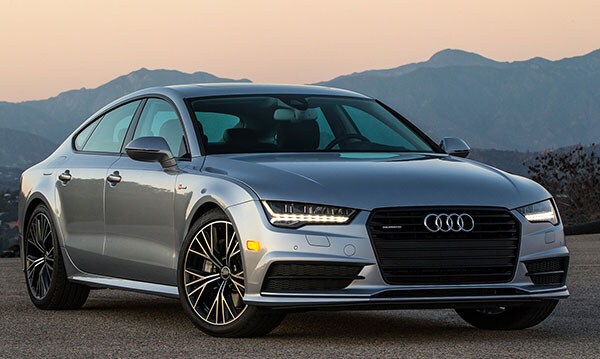 The Audi A7 is a premium full-size performance sports sedan with coupe styling and a luxury feel. Its exterior is stylish and its interior is practical. Audi's legendary Quattro all-wheel drive is standard. A7 seats four.
The 2016 Audi A7 tops its class on fuel mileage with the available turbocharged diesel engine: The A7 TDI rates and EPA-estimated 24/38 mpg City/Highway, for 29 mpg Combined.
The base engine is a supercharged 3.0-liter V6, and it's very quick. For 2016 its horsepower has been increased to 333 hp from 310, yet the EPA fuel mileage rating stays the same, at 20/30 mpg City/Highway, or 24 mpg Combined.
Both engines are smooth as well as powerful, their fuel mileage assisted by an 8-speed automatic transmission, which keeps the rpm at a steady level, with a tall final drive keeping the rpm lower at 70 mph on the freeway.
For 2016, Audi A7 gets new LED headlamps, along with tweaks to the bumpers and aerodynamic touches. Inside, the shape of the switchgear is slightly changed for 2016, and the Multi Media Interface (MMI) can be enhanced with a head-up display. New available materials include Valcona leather and Beaufort walnut trim, also a black-out trim.
For 2016, the adaptive cruise control is able to bring the car to a complete stop and resume, a feature that might be used in stop-and-go freeway traffic jams. However, people behind you will be impatient and may be upset because these systems don't do bumper to bumper as well as human drivers can.
The night vision system is improved for 2016, as is the system that senses a crash. On the outside, a new mesh insert on the rear bumper is available, and there are tweaked exhaust tips with certain trim levels.
The upscale Prestige model is more handsome to some, with black honeycomb replacing chrome at the front, diffusers and oval tailpipes added to the rear, and aluminum and carbon interior trim.
The Audi S7 has been significantly updated for 2016, as well. The 2016 Audi S7 is more powerful than before. The front and rear fascia have been updated with new bumpers, grille, front splitter, headlights, taillights, and exhaust outlets. Inside is upgraded trim, a new head-up display, and updated controls.
The 2016 S7 engine is rated at 450 horsepower and 406 foot-pounds of torque. The 7-speed dual-clutch transmission has been refined.